MOBILE TYRE SERVICES
Ben Chilton - Hometyre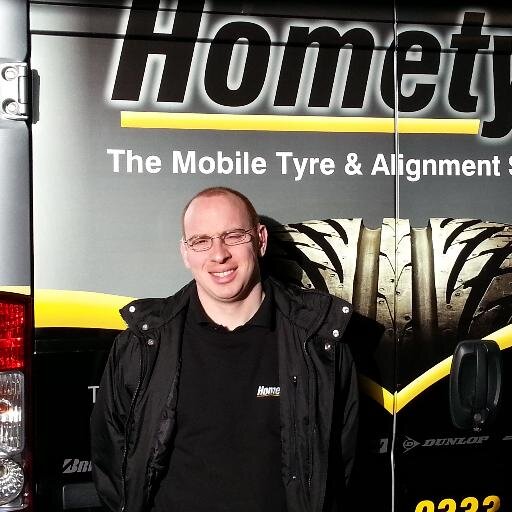 New tyres at your home or work

Need tyres replaced or repaired in Gatwick? We don't sub-contract tyre fitting, so you can be confident of our high standards of service. If you want your new tyres fitted without disruption to your busy schedule, then our mobile tyre service is the solution that you are looking for.
Book an appointment right down to the minute and our state of the art mobile tyre service van will arrive at the specified time (not just am or pm) and quickly replace your worn tyres with your choice of new products.
Locking Wheel nut removal Gatwick
Lost or damaged you locking wheel nut key or adaptor? Hometyre mobile tyre vans are fully equipped with specific tooling to remove these items from your vehicle. Please call now with your vehicle details for advise and a competitive quote for locking nut removal at your address.
Caravan And Mobile home tyres in Gatwick
Our mobile tyre fitting vehicles supply and fit a range of commercial tyres from budget to premium brands for all types of caravan and motorhome. Never again do you need to make that time consuming trip to a tyre shop! We come directly to your vehicle, whether you store it at your home address or at a local storage site. Specific date and time bookings mean you can arrange to meet us at your preferred location if necessary.
Tyron Band fitting Gatwick
A must-have safety device fitted internally to a wheel (underneath the tyre!) in order to allow a limited run flat capability in the event of a blow out. Continue driving to a place of safety at slow speed even with a fully deflated tyre. For more information or to order your Tyron bands, call us NOW!
Puncture Repair in Gatwick
Have you suffered a possible puncture? Tyre flat but not sure why? Whether you're at work or still on your drive, our fully self-supported mobile tyre fitting unit can attend to your vehicle. We repair punctures, seal corroded wheels and replace perished valves at your location and preferred date and time (subject to availability). Call us now.
Winter Tyre / Summer tyre swap over service in Gatwick
We supply and fit a huge range of winter tyres for car, 4x4 and light commercial vehicles. Save money by storing your seasonal wheels at home and arrange us to come to you to swap them over at the season change. Safe and economical motoring throughout the year.
"HOMETYRE - the easiest way to replace or repair your tyres across the Gatwick area. Call today or book online."
Ben Chilton, Hometyre